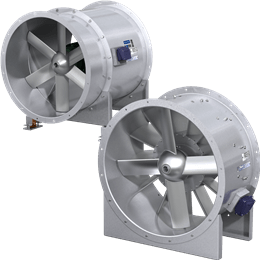 Vane Axial Fans
Vane axial inline fans are the most efficient axial design. Precision machining creates a tight tip clearance between blade tips and the fan housing. Integral straightening vanes redirect swirling airflow after the impeller into a linear flow at the discharge, further adding increased efficiency.
OVERVIEW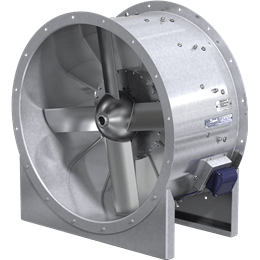 RA
Model RA is a high performance, direct drive vane axial fan. The casing design and construction are well suited for indoor or outdoor applications and can be easily installed in ducted or non-ducted systems. The RA fan is designed to significantly reduce operating costs with peak total efficiency ranging from 70-86%.
Capacities up to 200000 CMH (117,715 CFM)
Up to 1700 Pa (6.8 in. wg)
Certifications:
AMCA licensed for Air and Sound performance (AMCA 211 and 311)
CE Certified
High Temperature Certification:300°C / 2 Hrs (572°F / 2 Hrs) (F300 Certificate 370-CPR-1745)
High Temperature Certification:400°C / 2 Hrs (752°F / 2 Hrs) (F400 Certificate 370-CPR-1848)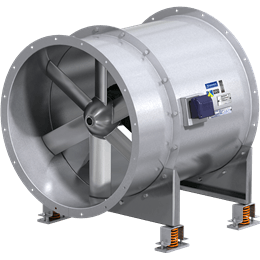 RA-3 Series
Model RA-3 Series vane axial inline fans are ideal for inline air ventilation in commercial, institutional or industrial buildings. The RA-3 Series provides you with more performance and price options.
Fan diameters range from 315mm to 1600mm
Capacities up to 215,000 CMH (126,544 cfm)
Up to 1,367 Pa (5.5 in. wg)
Certifications:
AMCA Air and Sound Performance