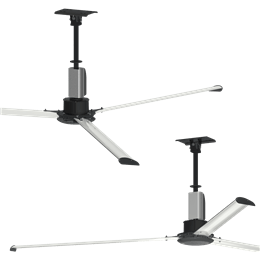 High Volume Low Speed (HVLS)
Large diameter ceiling fans provide airflow for effective air circulation and enhanced comfort in commercial and industrial spaces. With a variety of benefits including personnel cooling, humidity control, and heat distribution, these fans are an ideal selection for many applications.
OVERVIEW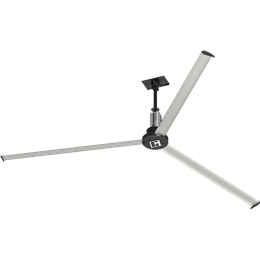 DS-M
Model DS-M high volume, low-speed (HVLS) ceiling fans are ideal for year-round comfort in air circulation and destratification applications. Featuring an aerodynamic, extruded aluminum airfoil design and a high-efficiency direct drive motor, model DS-M delivers maximum airflow at a fraction of the operating cost compared to other HVLS fans. Its universal ceiling mount and plug-and-play design make the DS-M fan the easiest HVLS fan to install in the market!
Fan diameters between 16 and 24 ft.
Up to 300,555 CMH (176,900 cfm)
Certifications:
AMCA Circulating Fan Performance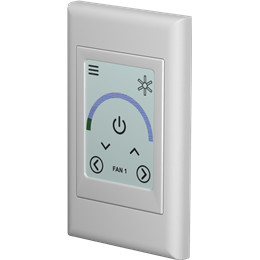 HVLS-M STANDARD TOUCHSCREEN CONTROL
The standard touchscreen offers both cost-effectiveness and functionality to an HVLS system. The sleek design fits in a standard 2x4 junction box and has an intuitive LCD screen. This controller allows the user to operate up to 3, 5, or 10 fans with any combination of models and sizes giving the user a wide range of flexibility when using the controller. The touchscreen offers password protection along with advanced diagnostics for ease of troubleshooting.